McDonald's franchisees' rent payments have risen 26% over the past five years to $6.1 billion in 2014.
McDonald's Corp. is close to deciding what, if anything, to do with its vast U.S. real-estate holdings, board member Miles D. White said in an interview Thursday.
McDonald's board and management haven't made a decision yet, but "we have had a lot of review and a lot of debate," said Mr. White, chief executive of Abbott Laboratories and head of the corporate-governance committee for McDonald's board.
McDonald's long has emphasized the importance of owning its property. But with its sales slumping recently, some investors and analysts have called for it to spin off the U.S. holdings—likely as a real-estate investment trust, or REIT—saying it would benefit shareholders.
McDonald's has examined options for its real estate before. The current review began before Steve Easterbrook became chief executive in March and involved an evaluation by outside consultants and financial advisers, Mr. White said. Mr. Easterbrook is also on the board.
McDonald's executives in recent months have said they are studying all financial options to boost shareholder value. Finance Chief Kevin Ozan in July said the company will update investors on its plans in November.
Mr. White said directors and executives have evaluated "the long-term role of real estate" in sustaining McDonald's performance and its context in a global business model. "Regardless of where we come out, somebody is going to be unhappy," Mr. White added.
WSJ Aug. 24, 2014
Customers in Their 20s and 30s Are Defecting to Fast-Casual Restaurants Like Chipotle, Five Guys
McDonald's is trying to enhance its credibility with young customers by marketing more on digital channels and testing mobile ordering and payment.
ASSOCIATED PRESS
Behind McDonald's Corp.'s worst slump in a decade is a trend that may augur even tougher times ahead: The Golden Arches is losing its luster with younger consumers.
The world's largest restaurant company by revenue earlier this month reported its sharpest monthly decline in global same-store sales since early 2003, adjusted for calendar irregularities.
In the U.S., with more than 40% of McDonald's 35,000-plus global locations, sales at restaurants open at least 13 months have been flat or falling for most of the past year.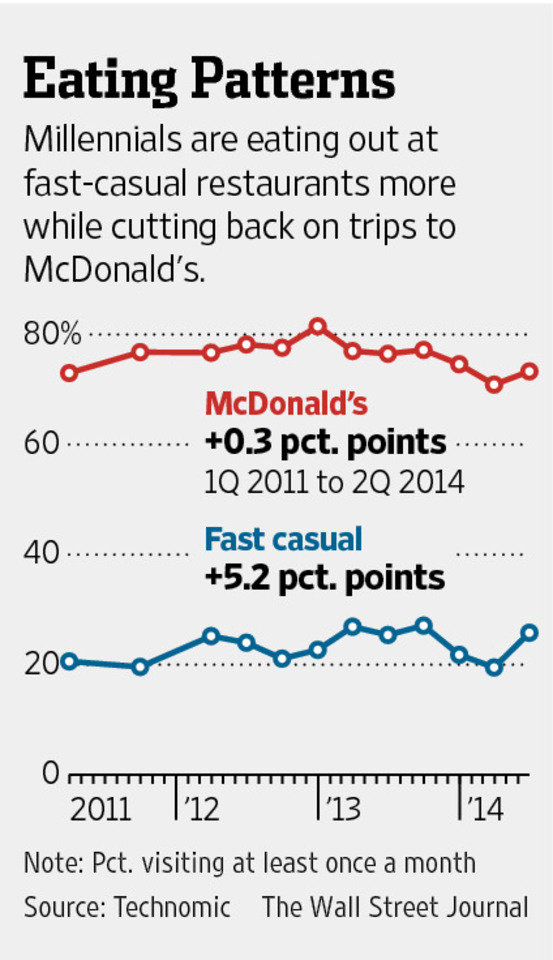 The hamburger giant on Friday announced it was replacing the head of its U.S. division for the second time in less than two years. The company tapped a former executive, Mike Andres, to take the helm of the domestic business—another sign that the company is trying to revive its fortunes at home.
McDonald's stock has traded in a relatively narrow range in the nearly 26 months since Chief Executive Don Thompson took the helm, while the share prices of many of its rivals have soared. McDonald's shares are down about 2% since the start of the year, closing at $94.45 Friday.