By FS Staff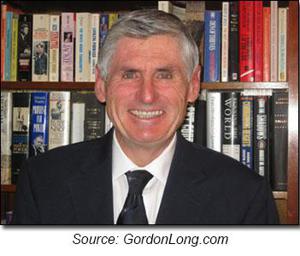 Gordon Long, co-founder of Financial Repression Authority, believes that a massive tax grab by government at the federal, state, and local level is coming regardless of which candidate wins the 2016 US presidential election. He also discusses "a peak in the credit cycle," what this means for investors, and why the Fed may have to reverse course this year in light of a potential liquidity crisis.
"There's concern (and you're seeing it in the market from those who understand what's going on)...that because we have so much collateral pledged to support debt and credit right now," Gordon said, "that when that collateral falls in price as we're seeing in oil and commodities, you get margin calls and if you don't have the liquidity you're caught and you're caught in a serious problem."
I think what we're going to go through here in the first quarter is some kind of adjustment or correction-it's healthy...I can't imagine the market will be allowed to go much below 1820 on the S&P before the central banks will react with new policies and if you think quantitative easing was an experiment you haven't seen anything yet."

We are going to see negative interest rates potentially...we already have $5 trillion in bonds around the globe trading negative...there are all sorts of things that the central banks could do other than just interest rates and they will do them when the collateral is in jeopardy because it will bring down the entire system."
Scroll down for more of his comments or click to hear a preview of his interview below.
Gordon Long: "We've had a $30 trillion household net worth increase since 2009...while the government is facing huge issues of underfunded pensions, a baby boom retirement coming, drains on Social Security - so there's a lot of pressures on the government... to increase (taxes) significantly."