EXTEND & PRETEND: Gaming the US Tax Payer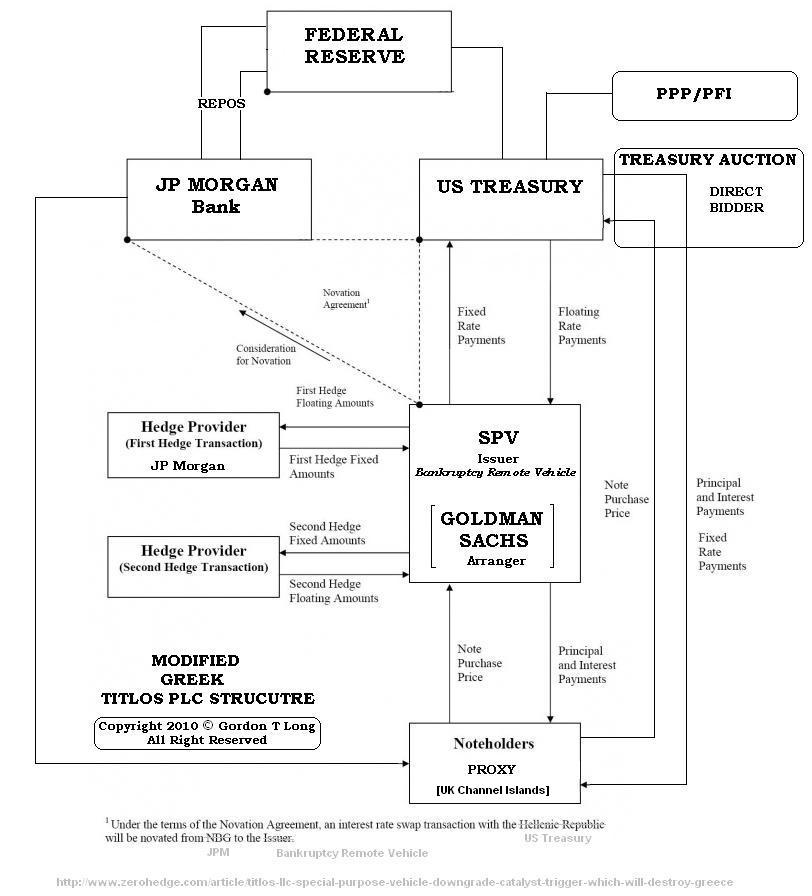 THIS IS A MODIFIED SCHEMATIC BASED ON THE GREEK TITLOS PLC STRUCTURE
USED BETWEEN GOLDMAN SACHS - THE GREEK GOVERNMENT (Hellenic Republic) AND THE NATIONAL BANK OF GREECE (NBG)
THIS IS A SPECULATIVE EXAMPLE ONLY - THE PARTIES CITED ARE USED AS REPRESENTATIVE EXAMPLES ONLY
This is an attempt ONLY at modification of the Greek Titlos PLC structure - There is no proof of this being true.
READ:
SULTANS OF SWAP: Explaining $605 Trillion in Derivatives!
Is Titlos PLC (Special Purpose Vehicle) The Downgrade Catalyst Trigger Which Will Destroy Greece? Zero Hedge
Actual Scrib
SULTANS OF SWAP: The Get Away!
EXTEND & PRETEND - Hitting the Maturity Wall
Gordon T Long
Mr. Long is a former senior group executive with IBM & Motorola, a principle in a high tech public start-up and founder of a private venture capital fund. He is presently involved in private equity placements internationally along with proprietary trading involving the development & application of Chaos Theory and Mandelbrot Generator algorithms.
Gordon T Long is not a registered advisor and does not give investment advice. His comments are an expression of opinion only and should not be construed in any manner whatsoever as recommendations to buy or sell a stock, option, future, bond, commodity or any other financial instrument at any time. While he believes his statements to be true, they always depend on the reliability of his own credible sources. Of course, he recommends that you consult with a qualified investment advisor, one licensed by appropriate regulatory agencies in your legal jurisdiction, before making any investment decisions, and barring that, you are encouraged to confirm the facts on your own before making important investment commitments.
© Copyright 2010 Gordon T Long. The information herein was obtained from sources which Mr. Long believes reliable, but he does not guarantee its accuracy. None of the information, advertisements, website links, or any opinions expressed constitutes a solicitation of the purchase or sale of any securities or commodities. Please note that Mr. Long may already have invested or may from time to time invest in securities that are recommended or otherwise covered on this website. Mr. Long does not intend to disclose the extent of any current holdings or future transactions with respect to any particular security. You should consider this possibility before investing in any security based upon statements and information contained in any report, post, comment or recommendation you receive from him.