---
---
---
FREE
COPY
(pdf)
Current Thesis Advisory
62 pages
Published November 2009
EXTEND & PRETEND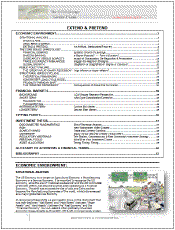 Click page to view Index
Add Promo Code: "Introduction"
in the Subject Heading
---
---
READ ALL THE
"PRESERVE & PROTECT" SERIES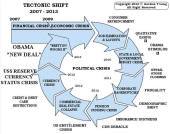 FOR UPCOMING SHOW TIMES SEE: COMMENTARY READER
Last Update: 11/17/2010 05:58 AM
SCHEDULE: 1st Pass: 5:30AM EST, 2nd Pass: 8:00 AM, 3rd Pass 10:30 AM. Last Pass 5:30 PM

Complete Legend to the Right, Top Items below.
Articles with highlights, graphics and any pertinent analysis found below.

| | |
| --- | --- |
| LATEST RESEARCH PUBLICATIONS | RSS |
COMMENTARY for all articles by Gordon T Long
CURRENCY WARS: Debase, Default, Deny!

In September 2008 the US came to a fork in the road. The Public Policy decision to not seize the banks, to not place them in bankruptcy court with the government acting as the Debtor-in-Possession (DIP), to not split them up by selling off the assets to successful and solvent entities, set the world on the path to global currency wars.

By lowering interest rates and effectively guaranteeing a weak dollar, the US ignited an almost riskless global US$ Carry Trade and triggered an uncontrolled Currency War with the mercantilist, export driven Asian economies. We are now debasing the US dollar with reckless spending and money printing with the policies of Quantitative Easing (QE) I and the expectations of QE II. Both are nothing more than effectively defaulting on our obligations to sound money policy and a "strong US$". Meanwhile with a straight face we deny that this is our intention.

Though prior to the 2008 financial crisis our largest banks had become casino like speculators with public money lacking in fiduciary responsibility, our elected officials bailed them out. Our leadership placed America and the world unknowingly (knowingly?) on a preordained destructive path because it was politically expedient and the easiest way out of a difficult predicament. By kicking the can down the road our political leadership, like the banks, avoided their fiduciary responsibility. Similar to a parent wanting to be liked and a friend to their children they avoided the difficult discipline that is required at certain critical moments in life. The discipline to make America swallow a needed pill. The discipline to ask Americans to accept a period of intense adjustment. A period that by now would be starting to show signs of success versus the abyss we now find ourselves staring into. A future that is now massively worse and with potentially fatal pain still to come. READ MORE

CURRENCY WARS: Misguided Economic Policy

The critical issues in America stem from minimally a blatantly ineffective public policy, but overridingly a failed and destructive Economic Policy. These policy errors are directly responsible for the opening salvos of the Currency War clouds now looming overhead.

Don't be fooled for a minute. The issue of Yuan devaluation is a political distraction from the real issue – a failure

of US policy leadership. In my opinion the US Fiscal and Monetary policies are misguided. They are wrong! I wrote a 66 page thesis paper entitled "Extend & Pretend" in the fall of 2009 detailing why the proposed Keynesian policy direction was flawed and why it would fail. I additionally authored a full series of articles from January through August in a broadly published series entitled "Extend & Pretend" detailing the predicted failures as they unfolded. Don't let anyone tell you that what has happened was not fully predictable!

Now after the charade of Extend & Pretend has run out of momentum and more money printing is again required through Quantitative Easing (we predicted QE II was inevitable in March), the responsible US politicos have cleverly ignited the markets with QE II money printing euphoria in the run-up to the mid-term elections. Craftily they are taking political camouflage behind an "undervalued Yuan" as the culprit for US problems. Remember, patriotism is the last bastion of scoundres READ MORE
---
---
READER ROADMAP - 2010 TIPPING POINTS aid to positioning COMMENTARY
1-SOVEREIGN DEBT

2-EU BANKING CRISIS
3-BOND BUBBLE

4-STATE & LOCAL GOVERNMENT

5-CENTRAL & EASTERN EUROPE
6-BANKING CRISIS II
7-RISK REVERSAL

8-COMMERCIAL REAL ESTATE

9-RESIDENTIAL REAL ESTATE - PHASE II
10-EXPIRATION FINANCIAL CRISIS PROGRAM
11-PENSION CRISIS

12-CHRONIC UNEMPLOYMENT

13-GOVERNMENT BACKSTOP INSUR.
14-CORPORATE BANKRUPTCY
11-16-10
1- SOVEREIGN DEBT & CREDIT CRISIS
European bond market meltdown – Mish
Greenspan: High deficits could spark bond crisis Reuters

"We've got to resolve this issue before it gets forced upon us"
Treasury yields rise alongside dollar FT
Biggest jump in ten-year yields since August
4- STATE & LOCAL GOVERNMENT
Bad timing: California seeks bond buyers amid rout in muni market LA Times
Yet another way the California Legislature has stuck it to taxpayers: The long delay on a budget agreement this year also delayed the state's plans to raise cash in the municipal bond market.
Now, Treasurer Bill Lockyer is trying to get investors to buy $14 billion in debt amid a broad sell-off in the bond market overall, and the worst sell-off in many tax-free muni bonds since the financial crash of late-2008.
That will mean higher interest rates on the debt than the state would have paid two months ago.
Lockyer on Monday launched the biggest portion of the debt sale: a $10-billion offering of short-term revenue anticipation notes, or RANs. The two series of notes, one maturing May 25, 2011 and the other June 28, will raise cash for the state to tide it over until tax revenue arrives in winter and spring
The surge in long-term bond yields in general over the last week is certain to boost what the state pays on its bonds compared with what the market was demanding earlier this fall.
iShares S&P Municipal Bond ETF StockCharts
George Gilder- California's Destructive Green Jobs Lobby WSJ
California officials acknowledged last Thursday that the state faces $20 billion deficits every year from now to 2016. At the same time, California's state Treasurer entered bond markets to sell some $14 billion in "revenue anticipation notes" over the next two weeks. Worst of all, economic sanity lost out in what may have been the most important election on Nov. 2—and, no, I'm not talking about the gubernatorial or senate races.
This was the California referendum to repeal Assembly Bill 32, the so-called Global Warming Solutions Act, which ratchets the state's economy back to 1990 levels of greenhouse gases by 2020. That's a 30% drop followed by a mandated 80% overall drop by 2050. Together with a $500 billion public-pension overhang, the new energy cap dooms the state to bankruptcy.
Many of these green companies, behaving like the public-service unions they resemble, diverted some of their government subsidies into the AB 32 campaign for more subsidies. Virtually every new venture investment proposal harbors a "green" angle that turns it from a potential economic asset into a government dependent.
Republicans may delude themselves that the U.S. can undertake a costly, inefficient and disruptive transformation of the energy economy, estimated by the International Energy Agency to cost some $45 trillion over 40 years, while meeting our global military challenges and huge debt overhang. But the green campaign wastes scarce and precious technological and entrepreneurial resources indispensable to the nation's future.
5- CENTRAL & EASTERN EUROPE
Bank of America Is in Deep Trouble, and There May Be Financial Disaster on the Horizon
AlterNet

8- COMMERCIAL REAL ESTATE
9-RESIDENTIAL REAL ESTATE - PHASE II
10- EXPIRATION FINANCIAL CRISIS PROGRAM
11- PENSION & ENTITLEMENTS CRISIS
13- GOVERNMENT BACKSTOP INSURANCE
The Fannie Mae Republicans WSJ
A major task for the next Congress will be rewriting the laws governing Fannie Mae and Freddie Mac, and House Republicans have now won a seat at that table. Which makes it all the more important that their seat not be occupied by Members who were once powerful defenders of the toxic mortgage twins.
These days, everyone—even Barney Frank—claims to want to reform Fannie and Freddie. Most Republicans now sound like these columns did for more than a decade, assailing the companies for their systemic risk to the financial system after taxpayers have had to put up $150 billion, and counting, to maintain them as the walking dead.
14- CORPORATE BANKRUPTCIES
Low yields lure blue chips to US corporate bond market FT

China May Surpass U.S. by 2020 in `Super Cycle,' Standard Chartered Says BL

Banks halt credit for property firms Shanghai Daily


China's four biggest banks have stopped extending new credit to developers for the rest of the year...


China's 'State Capitalism' Sparks Global Backlash WSJ


Since the end of the Cold War, the world's powers have generally agreed on the wisdom of letting market competition—more than government planning—shape economic outcomes. China's national economic strategy is disrupting that consensus.

Western anger with China has focused on Beijing's cheap-currency policy; President Obama blasted the practice at the G-20 summit in Seoul last weekend. Mr. Zhu's sprint to the top points to a deeper issue: China's national economic strategy is detailed and multifaceted, and it is challenging the U.S. and other powers on a number of fronts.

Central to China's approach are policies that champion state-owned firms and other so-called national champions, seek aggressively to obtain advanced technology, and manage its exchange rate to benefit exporters. It leverages state control of the financial system to channel low-cost capital to domestic industries—and to resource-rich foreign nations whose oil and minerals China needs to maintain rapid growth.

"The Chinese have shown that if they have the ability to kill your model and take your profits, they will," says Ian Bremmer, president of New York-based consultancy Eurasia Group. His book, "The End of the Free Market," argues that a rising tide of "state capitalism" led by China threatens to erode the competitive edge of the U.S.

According to China's Ministry of Finance, assets of all state enterprises in 2008 totaled about $6 trillion, equal to 133% of annual economic output that year. By comparison, total assets of the agency that controls government enterprises in France, whose dirigiste policies give it one of the biggest state sectors among major Western economies, were €539 billion ($686 billion) in 2008, about 28% of the size of France's economy.



19- PUBLIC POLICY MISCUES
Pigs Fly as Washington Faces Up to Deficit Hassett
We Must Work to Avoid Greek Scenario: Rep. Ryan CNBC
Federal Workers Making Over $180,000 Increase By 2,000% In Past Five Years ZH
Summers- China Is 'Central Challenge' WSJ
White House National Economic Council Director Larry Summers said the U.S. relationship with China will be the "central American challenge" in redeveloping the U.S. economy.
---
---
OTHER TIPPING POINT CATEGORIES NOT LISTED ABOVE

24-RETAIL SALES

26-GLOBAL OUTPUT GAP

31-FOOD PRICE PRESSURES

More about rising food prices... Fabius Maximus


32-US STOCK MARKET VALUATIONS
---
---



GENERAL INTEREST

Viene la tormenta, part II Price


Experts weigh in: Can the economy be saved? LA Times

FLASH CRASH - HFT - DARK POOLS

MARKET WARNINGS

The Cliff Hussman


Stocks Beat Junk by Most Since 1999 Amid Fund Flight BL


G20 MEETING

G-20 flops as Europe and China panic – Minyanville


CURRENCY WARS

The Plaza Accord Worked! Asia Sentinel

The US cannot of course dictate to the world as it did in 1972, nor cook up a deal with Europe and Japan as it did with the Plaza Accord. But...

Taiwan's Blunt FX Interventions WSJ


Asia-Pacific leaders promise to refrain from competitive currency devaluation Kyodo


Q3 EARNINGS

MARKET & GOLD MANIPULATION

Fraud and complicity are now the lifeblood of the status quo – Zero Hedge

It's the "great bank robbery" – Washington's Blog


AUDIO / VIDEODavid Icke - We Have The Power to Bring Down The Pyramid! Economic Edge




Politicians are now talking austerity for America – adios home mortgage deduction! What is that going to do to the home market and to prices? What will that mean for what's left of America's middle class?

Is it necessary? Absolutely not! The national debt does not even need to exist in any form whatsoever, we have been controlled to believe that we owe banks for the use of our own money system! It's a brainwashing and in this short video David Icke spells it out as to where the power really lies.

The power rests with us!

QUOTE OF THE WEEK


"The thought that you can create a prosperous economy by inflating is an illusion"
Volcker

"We sure have to maintain some confidence in the dollar or none of this would work" Volcker

BUY ANY BOOK

GET 2 MONTH SUBSCRIPTION TO

MONTHLY MARKET

COMMENTARY
Gordon T Long is not a registered advisor and does not give investment advice. His comments are an expression of opinion only and should not be construed in any manner whatsoever as recommendations to buy or sell a stock, option, future, bond, commodity or any other financial instrument at any time. While he believes his statements to be true, they always depend on the reliability of his own credible sources. Of course, he recommends that you consult with a qualified investment advisor, one licensed by appropriate regulatory agencies in your legal jurisdiction, before making any investment decisions, and barring that, we encourage you confirm the facts on your own before making important investment commitments.ont>
© Copyright 2010 Gordon T Long. The information herein was obtained from sources which Mr. Long believes reliable, but he does not guarantee its accuracy. None of the information, advertisements, website links, or any opinions expressed constitutes a solicitation of the purchase or sale of any securities or commodities. Please note that Mr. Long may already have invested or may from time to time invest in securities that are recommended or otherwise covered on this website. Mr. Long does not intend to disclose the extent of any current holdings or future transactions with respect to any particular security. You should consider this possibility before investing in any security based upon statements and information contained in any report, post, comment or recommendation you receive from him.
TUESDAY
11-16-10
NOVEMBER
---
TIPPING POINTS
1-SOVEREIGN DEBT & CREDIT CRISIS
2-EU BANKING CRISIS
3-BOND BUBBLE
4-STATE & LOCAL GOVERNMENT
5-CENTRAL & EASTERN EUROPE
6-BANKING CRISIS II
7-RISK REVERSAL
8-COMMERCIAL REAL ESTATE
9-RESIDENTIAL REAL ESTATE - PHASE II
10-EXPIRATION FINANCIAL CRISIS PROGRAM
11-PENSION CRISIS
12-CHRONIC UNEMPLOYMENT
13-GOVERNMENT BACKSTOP INSUR.
14-CORPORATE BANKRUPTCY
15-CREDIT CONTRACTION II
16-US FISCAL IMBALANCES
17-CHINA BUBBLE
18-INTEREST PAYMENTS
19-US PUBLIC POLICY MISCUES
20-JAPAN DEBT DEFLATION SPIRAL
21-US RESERVE CURRENCY.
22-SHRINKING REVENUE GROWTH RATE
23-FINANCE & INSURANCE WRITE-DOWNS
24-RETAIL SALES
25-US DOLLAR WEAKNESS
26-GLOBAL OUTPUT GAP
27-CONFIDENCE - SOCIAL UNREST
28-ENTITLEMENT CRISIS
29-IRAN NUCLEAR THREAT
30-OIL PRICE PRESSURES
31-FOOD PRICE PRESSURES
32-US STOCK MARKET VALUATIONS
33-PANDEMIC
34-
S$ RESERVE CURRENCY
35-TERRORIST EVENT
36-NATURAL DISASTER
---
READING THE RIGHT BOOKS? NO TIME?
WE HAVE IT ANALYZED & INCLUDED IN OUR LATEST RESEARCH PAPERS!
ACCEPTING PRE-ORDERS
Book Review- Five Thumbs Up for Steve Greenhut's Plunder! Mish