---
---
---
FREE
COPY
(pdf)
Current Thesis Advisory
62 pages
Published November 2009
EXTEND & PRETEND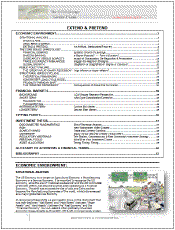 Click page to view Index
Add Promo Code: "Introduction"
in the Subject Heading
---
---
READ ALL THE
"PRESERVE & PROTECT" SERIES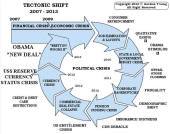 FOR UPCOMING SHOW TIMES SEE: COMMENTARY READER
| | |
| --- | --- |
| LATEST PUBLICATIONS | RSS |
COMMENTARY for all articles by Gordon T Long
CURRENCY WARS: Debase, Default, Deny!

In September 2008 the US came to a fork in the road. The Public Policy decision to not seize the banks, to not place them in bankruptcy court with the government acting as the Debtor-in-Possession (DIP), to not split them up by selling off the assets to successful and solvent entities, set the world on the path to global currency wars.

By lowering interest rates and effectively guaranteeing a weak dollar, the US ignited an almost riskless global US$ Carry Trade and triggered an uncontrolled Currency War with the mercantilist, export driven Asian economies. We are now debasing the US dollar with reckless spending and money printing with the policies of Quantitative Easing (QE) I and the expectations of QE II. Both are nothing more than effectively defaulting on our obligations to sound money policy and a "strong US$". Meanwhile with a straight face we deny that this is our intention.

Though prior to the 2008 financial crisis our largest banks had become casino like speculators with public money lacking in fiduciary responsibility, our elected officials bailed them out. Our leadership placed America and the world unknowingly (knowingly?) on a preordained destructive path because it was politically expedient and the easiest way out of a difficult predicament. By kicking the can down the road our political leadership, like the banks, avoided their fiduciary responsibility. Similar to a parent wanting to be liked and a friend to their children they avoided the difficult discipline that is required at certain critical moments in life. The discipline to make America swallow a needed pill. The discipline to ask Americans to accept a period of intense adjustment. A period that by now would be starting to show signs of success versus the abyss we now find ourselves staring into. A future that is now massively worse and with potentially fatal pain still to come. READ MORE

CURRENCY WARS: Misguided Economic Policy

The critical issues in America stem from minimally a blatantly ineffective public policy, but overridingly a failed and destructive Economic Policy. These policy errors are directly responsible for the opening salvos of the Currency War clouds now looming overhead.

Don't be fooled for a minute. The issue of Yuan devaluation is a political distraction from the real issue – a failure

of US policy leadership. In my opinion the US Fiscal and Monetary policies are misguided. They are wrong! I wrote a 66 page thesis paper entitled "Extend & Pretend" in the fall of 2009 detailing why the proposed Keynesian policy direction was flawed and why it would fail. I additionally authored a full series of articles from January through August in a broadly published series entitled "Extend & Pretend" detailing the predicted failures as they unfolded. Don't let anyone tell you that what has happened was not fully predictable!

Now after the charade of Extend & Pretend has run out of momentum and more money printing is again required through Quantitative Easing (we predicted QE II was inevitable in March), the responsible US politicos have cleverly ignited the markets with QE II money printing euphoria in the run-up to the mid-term elections. Craftily they are taking political camouflage behind an "undervalued Yuan" as the culprit for US problems. Remember, patriotism is the last bastion of scoundres READ MORE
---
READER ROADMAP - 2010 TIPPING POINTS aid to positioning COMMENTARY
Last Update: 11/03/2010 11:12 AM
SCHEDULE: 1st Pass: 5:30AM EST, 2nd Pass: 8:00 AM, 3rd Pass 10:30 AM. Last Pass 5:30 PM


Complete Legend to the Right, Top Items below.
Articles with highlights, graphics and any pertinent analysis found below.

1-SOVEREIGN DEBT

2-EU BANKING CRISIS
3-BOND BUBBLE

4-STATE & LOCAL GOVERNMENT

5-CENTRAL & EASTERN EUROPE
6-BANKING CRISIS II
7-RISK REVERSAL

8-COMMERCIAL REAL ESTATE

9-RESIDENTIAL REAL ESTATE - PHASE II
10-EXPIRATION FINANCIAL CRISIS PROGRAM
11-PENSION CRISIS

12-CHRONIC UNEMPLOYMENT

13-GOVERNMENT BACKSTOP INSUR.
14-CORPORATE BANKRUPTCY
10-30-10
GEO-POLITICAL TENSIONS - ISRAEL / KOREA / IRAN
IRAN
ISREAL
KOREA
1- SOVEREIGN DEBT & CREDIT CRISIS
Inside the 3rd Quarter GDP Report
Pragmatic Capitalist
The Bureau of Economic Analysis' ("BEA") "Advance Estimate" of the Third Quarter 2010 Gross Domestic Product ("GDP") had a headline annualized growth rate of 2.0% for the U.S. economy. As a quick reminder, the classic definition of the GDP can be summarized with the following equation:
GDP = private consumption + gross private investment + government spending + (exports − imports)
or, as it is commonly expressed in algebraic shorthand:
GDP = C + I + G + (X-M)
For the third quarter of 2010 the values for that equation — showing each term's total dollars (rounded to the nearest $.1 trillion), each term's percentage of the total GDP, and each term's contribution to the final percentage growth number — it might look something like this:
GDP Components Table
| | Total GDP | = | C | + | I | + | G | + | (X-M) |
| --- | --- | --- | --- | --- | --- | --- | --- | --- | --- |
| Annual $ (trillions) | $14.7 | = | $10.4 | + | $1.9 | + | $3.0 | + | $-0.6 |
| % of GDP | 100.0% | = | 70.7% | + | 12.9% | + | 20.4% | + | -4.0% |
| Contribution to GDP Growth % | 2.0% | = | 1.8% | + | 1.5% | + | .7% | + | -2.0% |
Perhaps a more interesting view is how the numbers in the bottom line of the above table (contributions to the total headline annualized growth percentage) have been changing over the past seven quarters. That line breaks out the total annualized growth percentage for the GDP into its component parts. In the table below we have further split the "C" component into goods and services, split the "I" component into fixed investment and inventories, separated exports from imports, and listed the quarters in columns with the most current to the left:
Quarterly Changes in % Contributions to GDP
| | 3Q-2010 | 2Q-2010 | 1Q-2010 | 4Q-2009 | 3Q-2009 | 2Q-2009 | 1Q-2009 |
| --- | --- | --- | --- | --- | --- | --- | --- |
| Total GDP Growth | 2.00% | 1.70% | 3.70% | 5.00% | 1.60% | -0.70% | -4.90% |
| Consumer Goods | 0.64% | 0.79% | 1.29% | 0.42% | 1.62% | -0.32% | 0.41% |
| Consumer Services | 1.15% | 0.75% | 0.03% | 0.27% | -0.21% | -0.79% | -0.75% |
| Fixed Investment | 0.10% | 2.06% | 0.39% | -0.12% | 0.12% | -1.26% | -5.71% |
| Inventories | 1.44% | 0.82% | 2.64% | 2.83% | 1.10% | -1.03% | -1.09% |
| Government | 0.68% | 0.80% | -0.32% | -0.28% | 0.33% | 1.24% | -0.61% |
| Exports | 0.61% | 1.08% | 1.30% | 2.56% | 1.30% | -0.08% | -3.61% |
| Imports | -2.61% | -4.58% | -1.61% | -0.66% | -2.67% | 1.55% | 6.48% |
Several items in the above table tell us a lot about the "Great Recession" and our still unfolding "recovery":
Q3 GDP ANALYSIS




US economic recovery remains sluggish FT
Growth rate of 2% adds to pressure on Fed for further quantitative easing


Many economists now question how much QE2 can do to boost demand even if it succeeds in pushing down long-term interest rates.

"We've got a recovery that's got so many constraints on it," said Paul Ballew, chief economist of insurance company Nationwide. "Monetary policy is not going to be the magic bullet to fix all of the ills." - - "The sums we're talking about [for QE2] are not going to make any meaningful difference given the headwinds," said Mr Ashworth


U.S. Economy Grew 2% as Consumer Spending Rises BL


Treasury 30-year bond yields climbed the most in 10 months in October as U.S. securities fell amid speculation that asset purchases by the Federal Reserve will reignite inflation.


The Easiest Way To Visualize What Happened In The Q3 GDP BI


Great chart from the Cleveland Fed, via PragCap, showing which contributors to GDP are growing and which are smalling (apologies for the size). Two things stand out. Personal consumption is rising, while residential Investment really whacked GDP. Government spending is also fading, as the stimulus ends. Business fixed investment was also weaker than last quarter.



David Rosenberg- Q3 GDP Was Just 80 Basis Points Shy Of A Double Dip
BI

Put David Rosenberg in the Roubini camp: Q3 GDP sucked, and was this close to a double dip:
U.S. real GDP expanded at an as-expected 2% annual rate in the third quarter in what is turning out to be a classic case of a muddle-through economy. Inching ahead but not at a fast enough pace to have any meaningful impact with regard to addressing the unprecedented amount of excess slack in the labour market.

To be sure, 2.0% is fractionally better than the 1.7% pace posted in the second quarter when double-dip risks began to surface. And, while a plus sign front of any GDP print may be viewed as constructive in some circles, this is an anaemic pace for this stage of the cycle because it is completely abnormal to be seeing the economy slow down heading into the second year of a recovery phase. On average, at this juncture, real GDP growth is accelerating, not decelerating, and typically advancing at a 5% clip, not 2%.

The major problem in the third quarter report was the split between inventories and real final sales. Nonfarm business inventories soared to a $115.5 billion at an annual rate from the already strong $68.8 billion build in the second quarter — this alone contributed 70% to the headline growth rate last quarter. If we do get a slowdown in inventory investment in Q4, as we anticipate, it would really not take much to get GDP into negative terrain. We estimate that if the change in inventories slowed to about $94.0 billion in Q4 (about $22 billion below Q3 levels), GDP would contract fractionally. In other words, it won't take much for GDP to slip into negative terrain.

It would have been much more encouraging to see real final sales — the rest of the economy — do better than the tepid 0.6% annual rate gain that was posted. And that 0.6% annualized growth rate in real final sales follows a string of exceptionally weak performances — 0.9% in Q2, 1.1% in Q1, 2.1% in Q4 of last year, 0.4% in Q3 2009 and 0.2% in Q2. Historians will note that this goes down as the weakest recovery in real final sales on record, despite the fact the economy has been on the receiving end of the most pronounced dose of fiscal, monetary and bailout stimulus ever. Quite an accomplishment.

The recession may have technically ended, but outside of inventories, and the best days of the re-stocking process look to be behind us, this has been a listless recovery. At 60 basis points above zero, real final sales are just a shock away from double-dipping — a shock like looming tax hikes, accelerating fiscal cutbacks at the state/local government level or the millions of "99ers" about to fall off the extended jobless benefit rolls at the end of November.
If Q3 Was Like Q2 Or Q1, Today's GDP Number Will Get Revised Down Big-Time
BI

Remember, this is just the advance number. A reader writes to remind us:
For 1st quarter, BLS reported: advance, revised, 2nd revised went like this: 3.2, 3, 2.7...
(difference from advance to end: .5%, roughly 14trillion
economy
= many BILLIONs $$$

2nd quarter, BLS reported: 2.4, 1.6, 1.7
(difference from advanced estimate to end: .7%, roughly many billions more $$$
see for yourself:
So the real question is: Where do we end this time?
Commitment Of Traders: The Speculative Treasury Bubble Pops As Dollar Longs Continue Rising ZH
A look at Treasury specs shows a combined drop across the 2, 5 and 10Y space of 123,835 contracts to 186,892, only the second largest drop in 2010, which occurred after the cumulative total hit a 2010 record of 310,727 the week prior! In other words, even as specs were discounting an increase in inflation and a potential increase in the value of the dollar, the bond bubble officially popped.
4- STATE & LOCAL GOVERNMENT
Why Is Indiana Putting Armed Security Guards Into 36 Unemployment Offices Across The State? Economic Collapse
Indiana Department of Workforce Development spokesman Marc Lotter says that the agency is bringing in the extra security in anticipation of an upcoming deadline when thousands upon thousands of Indiana residents could have their unemployment benefits cut off. But it is not just the state of Indiana that could have a problem. In fact, one recent study found that approximately 2 million Americans will lose their unemployment insurance benefits during this upcoming holiday season unless Congress authorizes another emergency extension of benefits by the end of November. At this point, however, that is looking less and less likely.

So who is paying for all of this extra security? The Feds of course.

The additional cost of the new security will be approximately $1 million, and it will be paid for with U.S. government funds designated for the administration of the unemployment system according to Lotter.

- According to a recent poll conducted by CNBC, 92 percent of Americans believe that the performance of the U.S. economy is either "fair" or "poor".

- it is hard for even highly educated people to find work in 2010. In America today, 317,000 waiters and waitresses have college degrees.

- In recent years, millions upon millions of Americans have been forced to take reduced hours or a cut in pay due to the economy. Millions of others have had to take jobs that barely enable them to survive. In fact, the number of Americans working part-time jobs "for economic reasons" is now the highest it has been in at least five decades.

This isn't "capitalism" or "free enterprise" or "rugged individualism." This is an oligarchy. This is fascism as defined by Mussolini himself, who described fascism as the merging of state and corporate power. This isn't pull-yourself-up-by-the-bootstraps capitalism because the globalist robber baron fascists don't want people to have boots; they want their slaves to be as desperate and hungry as possible so they can control them. Of course, the globalists will end up in a hell of their own making when violent crime becomes so widespread that they can't even leave their gated communities without an armed bodyguard.
5- CENTRAL & EASTERN EUROPE
8- COMMERCIAL REAL ESTATE
9-RESIDENTIAL REAL ESTATE - PHASE II
Ohio asks Wells Fargo to stop foreclosures FT
Citi- Don't Make The Common Mistake Of Thinking Housing Matters Like It Used To BI
How Many Years Of Home Price Gains Have Been Erased In Your City BI
Great chart from forecaster John Burns via Calculated Risk showing how many years back the housing bust has set various cities.
Click to Enlarge
10- EXPIRATION FINANCIAL CRISIS PROGRAM
11- PENSION & ENTITLEMENTS CRISIS
Will Americans Ever Hear These Words- "Your Pensions Will Be Financed, Integrity Is Not An Empty Word"
BI

Despite months of protests, French pension reform measures look like they're going to stick. The bill, approved yesterday in parliament, will raise the retirement age from 60 to 62 and postpone full benefits to 67. And you know it's all over because President Sarkozy gave a conciliatory victory speech today. Suddenly Americans might start feeling jealous.
Translated from Le Monde:
"In this affair there is only one victor, our social security. It is the French, after this law is passed, who will know that their retirements are financed, that integrity will not be an empty word, that retirees can count on their pensions."
"All those who retire in the coming years will know that the French system of social security, based on the integrity between generations, works. That is all. For the rest, the concerns, often legitimate, have been expressed. I have heard them, I have reflected and I will take initiatives in time to respond."
France's pension crisis is (was?) pretty much equivalent to America's. Both retirement systems were graded "C" by the Mercer Global Pension Index.
Now check out the only 5 countries whose pensions systems can survive >
13- GOVERNMENT BACKSTOP INSURANCE
14- CORPORATE BANKRUPTCIES

Here Are Six Commodities That Have Been Hijacked By Chinese Deman BI


We hear a lot about how China's commodities demand is enormous, but a latest report from Morgan Stanley, 'The China Files: Europe', shows us just how larger the nation's consumption has become.

China is a voracious global consumer of coal, tin, lead, zinc, aluminum, and copper. Here it all is, in a snapshot:
Today, China competes for these limited resources with other growing economies in a global market vastly different from the one that it entered as the dominant emerging economy in 1993. Since then, more countries have started to develop— Brazil, Russia, and India, for example—and now demonstrate considerable demand for the same resources as China.
If China and other emerging economies keep growing at current speeds without reducing their energy and commodity dependency, prices for these resources may move beyond what China can afford, triggering an economic slowdown in the country.
You can also add iron ore and steel to the list, which for some reason aren't shown on the MS chart above.
19- PUBLIC POLICY MISCUES
---
---
OTHER TIPPING POINT CATEGORIES NOT LISTED ABOVE

24-RETAIL SALES

26-GLOBAL OUTPUT GAP

31-FOOD PRICE PRESSURES

32-US STOCK MARKET VALUATIONS
---
---



CENTRAL BANKING MONETARY POLICIES, ACTIONS & ACTIVITIES

------------

Asset purchases like 'Ponzi scheme' FT


For now, the underlying rationale of Fed policy action is to lower Treasury yields, force banks to lend money and push investors out of government debt into riskier securities. A further rally in equities and other risk assets translates into a "wealth affect" on consumers and companies, that in turn hopefully boosts confidence and stimulates economic activity. Deploying easy monetary policy to boost equities and risk assets and limit the pain of recessions and market turbulence has been standard procedure at the Fed since the 1987 stock market crash.

Except this time, the animal spirits are being offset by many consumers, investors and companies trying to work themselves out from crushing debts accumulated during the mortgage and credit boom of the past decade. The big fear for markets and the Fed is that the weight of the bad debts from the last bubble leaves the economy unresponsive to lower interest rates, creating what is known as a "liquidity trap".

Mr Gross says: "We are in a 'liquidity trap', where [low] interest rates or trillions in asset purchases may not stimulate borrowing or lending because consumer demand is just not there."


The Fed Underwrites Asset Explosion Sheehan

Is More QE in Sight? FRBSL

Tea Party groundswell signals challenges to Fed Reuters

Bernanke's Reluctance to Speak Out Rankles Some NYT



GENERAL INTEREST

Time for a New Theory of Money Yes Mag. (Brown)

Debt trap leads to despair for rural poor FT

"We were leading such stressful lives," says the young widow. "It was difficult to face the humiliation." Suicides by debt-burdened farmers are not new in India's southern state of Andhra Pradesh, where crop failure and aggressive tactics by money-lenders have long been a deadly combination.

FLASH CRASH - HFT - DARK POOLS

MARKET WARNINGS

Presenting October Total Stock Market Volume ZH

Oh yeah, those banks sure are making a killing on the sudden and dramatic resurgence in trading. If one looks carefully, one can almost, but not quite, see that crazy DeMarkian formation that predicts that in 10 years someone may actually trade stocks again.
CURRENCY WARS

Gold Will Outlive Dollar Once Slaughter Comes BL (Hathaway)


The world's monetary system is in the process of melting down. The prospects for an orderly unwinding of the extreme posture of global monetary policy are zero. Bernanke, Jean- Claude Trichet and Mervyn King, his counterparts in Europe and the U.K. respectively, are huddling en masse upon the most precarious perch in the history of monetary affairs. These alleged guardians of monetary stability, in their attempts to shore up the system, have simply created the incinerator for paper money. We are past the point of no return. Quantitative easing may well become a way of life.

Bonfire of the Currencies Sprott


What Would Ludwig von Mises Do? EPJ

The Federal Reserve Stirs Poltergeist Of Hyperinflation, Weimar Collapse Forbes

ECB officials warn of "currency war" risks to growth Reuters


Fed Easing Will Keep the Dollar Weak Through November, John Taylor Says BL


Taylor retained his forecast the euro will fall to parity with the dollar in 2011


Q3 EARNINGS

Earnings worries depress Asian equities FT

MARKET & GOLD MANIPULATION

The Fed and "Plunge Protection Team": Are They Manipulating Stocks? EW


AUDIO / VIDEO

QUOTE OF THE WEEK


"The global financial system continues to be unsound in the same way that a Ponzi scheme is unsound: there are not enough cash flows to ultimately service the face value of all the existing obligations over time. A Ponzi scheme may very well be liquid, as long as few people ask for their money back at any given time. But solvency is a different matter - relating to the ability of the assets to satisfy the liabilities."

John Hussman
No Margin of Safety, No Room for Error



BUY ANY BOOK

GET 2 MONTH SUBSCRIPTION TO

MONTHLY MARKET

COMMENTARY
Gordon T Long is not a registered advisor and does not give investment advice. His comments are an expression of opinion only and should not be construed in any manner whatsoever as recommendations to buy or sell a stock, option, future, bond, commodity or any other financial instrument at any time. While he believes his statements to be true, they always depend on the reliability of his own credible sources. Of course, he recommends that you consult with a qualified investment advisor, one licensed by appropriate regulatory agencies in your legal jurisdiction, before making any investment decisions, and barring that, we encourage you confirm the facts on your own before making important investment commitments.ont>
© Copyright 2010 Gordon T Long. The information herein was obtained from sources which Mr. Long believes reliable, but he does not guarantee its accuracy. None of the information, advertisements, website links, or any opinions expressed constitutes a solicitation of the purchase or sale of any securities or commodities. Please note that Mr. Long may already have invested or may from time to time invest in securities that are recommended or otherwise covered on this website. Mr. Long does not intend to disclose the extent of any current holdings or future transactions with respect to any particular security. You should consider this possibility before investing in any security based upon statements and information contained in any report, post, comment or recommendation you receive from him.
READING THE RIGHT BOOKS? NO TIME?
WE HAVE IT ANALYZED & INCLUDED IN OUR LATEST RESEARCH PAPERS!
ACCEPTING PRE-ORDERS
---
TIPPING POINTS
1-SOVEREIGN DEBT & CREDIT CRISIS
2-EU BANKING CRISIS
3-BOND BUBBLE
4-STATE & LOCAL GOVERNMENT
5-CENTRAL & EASTERN EUROPE
6-BANKING CRISIS II
7-RISK REVERSAL
8-COMMERCIAL REAL ESTATE
9-RESIDENTIAL REAL ESTATE - PHASE II
10-EXPIRATION FINANCIAL CRISIS PROGRAM
11-PENSION CRISIS
12-CHRONIC UNEMPLOYMENT
13-GOVERNMENT BACKSTOP INSUR.
14-CORPORATE BANKRUPTCY
15-CREDIT CONTRACTION II
16-US FISCAL IMBALANCES
17-CHINA BUBBLE
18-INTEREST PAYMENTS
19-US PUBLIC POLICY MISCUES
20-JAPAN DEBT DEFLATION SPIRAL
21-US RESERVE CURRENCY.
22-SHRINKING REVENUE GROWTH RATE
23-FINANCE & INSURANCE WRITE-DOWNS
24-RETAIL SALES
25-US DOLLAR WEAKNESS
26-GLOBAL OUTPUT GAP
27-CONFIDENCE - SOCIAL UNREST
28-ENTITLEMENT CRISIS
29-IRAN NUCLEAR THREAT
30-OIL PRICE PRESSURES
31-FOOD PRICE PRESSURES
32-US STOCK MARKET VALUATIONS
33-PANDEMIC
34-
S$ RESERVE CURRENCY
35-TERRORIST EVENT
36-NATURAL DISASTER
---
Book Review- Five Thumbs Up for Steve Greenhut's Plunder! Mish