ANALYTICAL SERVICES
---
Fibonacci - W.D. Gann
Elliott Wave - J. M. Hurst
---

Developers of Chaos Theory
& Mandelbrot Generator
Algorithms
APPLICATION FOCUS
---
---
A MUST READ FOR ANY UNDERSTANDING
of the current
GLOBAL MACRO ECONOMIC
ENVIRONMENT
---
---
FREE INTRODUCTORY
MAILING
Current Thesis Advisory
62 pages
EXTEND & PRETEND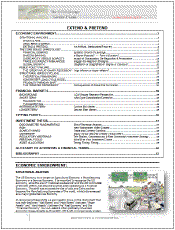 Click page to view Index
Add Promo Code: "Introduction"
in the Subject Heading
The Latest Monthly
MONTHLY MARKET COMMENTARY
12 pages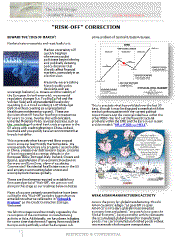 Click page for Front Page
Add Promo Code: "MMU"
in the Subject Heading
---
FREE INTRODUCTORY
ACCESS
FACEBOOK

DAILY TIPPING POINT ARTICLE POSTS
SAMPLE PAGE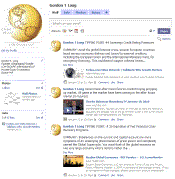 Click page to view Index
Add Promo Code: "Facebook"
in the Subject Heading
---
CUSTOMIZE YOUR RESEARCH EFFORTS
TIPPING POINT
TAG ENGINE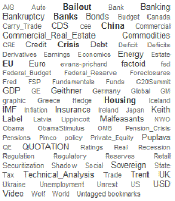 Click page to view Index
Free Access to Our Tag Engine for detailed research behind our Tipping Points.
OVER 1000 ARTICLES INDEXED
each with an
Executive Summary - Abstract
SAMPLE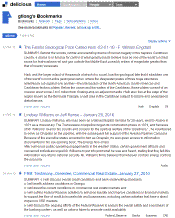 Click page to view Index
Add Promo Code: "Tag Engine"
in the Subject Heading
---
| | |
| --- | --- |
| LATEST PUBLICATIONS | RSS |
COMMENTARY for all articles by Gordon T Long
PRESERVE & PROTECT: The Jaws of Death

The United States is facing both a structural and demand problem - it is not the cyclical recessionary business cycle or the fallout of a credit supply crisis which the Washington spin would have you believe.

It is my opinion that the Washington political machine is being forced to take this position, because it simply does not know what to do about the real dilemma associated with the implications of the massive structural debt and deficits facing the US. This is a politically dangerous predicament because the reality is we are on the cusp of an imminent and significant collapse in the standard of living for most Americans.

The politicos' proven tool of stimulus spending, which has been the silver bullet solution for decades to everything that has even hinted of being a problem, is clearly no longer working. Monetary and Fiscal policy are presently no match for the collapse of the Shadow Banking System. A $2.1 Trillion YTD drop in Shadow Banking Liabilities has become an insurmountable problem for the Federal Reserve without a further and dramatic increase in Quantitative Easing. The fallout from this action will be an intractable problem which we will face for the next five to eight years, resulting in the "Jaws of Death" for the American public. READ MORE

PRESERVE & PROTECT: Mapping the Tipping Points

The economic news has turned decidedly negative globally and a sense of 'quiet before the storm' permeates the financial headlines. Arcane subjects such as a Hindenburg Omen now make mainline news. The retail investor continues to flee the equity markets and in concert with the institutional players relentlessly pile into the perceived safety of yield instruments, though they are outrageously expensive by any proven measure. Like trying to buy a pump during a storm flood, people are apparently willing to pay any price. As a sailor it feels like the ominous period where the crew is fastening down the hatches and preparing for the squall that is clearly on the horizon. Few crew mates are talking as everyone is checking preparations for any eventuality. Are you prepared?

What if this is not a squall but a tropical storm, or even a hurricane? Unlike sailors the financial markets do not have the forecasting technology to protect it from such a possibility. Good sailors before today's technology advancements avoided this possibility through the use of almanacs, shrewd observation of the climate and common sense. It appears to this old salt that all three are missing in today's financial community.

Looking through the misty haze though, I can see the following clearly looming on the horizon.

Since President Nixon took the US off the Gold standard in 1971 the increase in global fiat currency has been nothing short of breath taking. It has grown unchecked and inevitably became unhinged from world industrial production and the historical creators of real tangible wealth. READ MORE
---
READER ROADMAP - 2010 TIPPING POINTS aid to positioning COMMENTARY
Last Update: 09/26/2010 06:15 AM
SCHEDULE: 1st Pass: 5:30AM EST, 2nd Pass: 8:00 AM, 3rd Pass 10:30 AM. Last Pass 5:30 PM


Complete Legend to the Right, Top Items below.
Articles with highlights, graphics and any pertinent analysis found below.

1-SOVEREIGN DEBT

2-EU BANKING CRISIS
3-BOND BUBBLE

4-STATE & LOCAL GOVERNMENT

5-CENTRAL & EASTERN EUROPE
6-BANKING CRISIS II
7-RISK REVERSAL

8-COMMERCIAL REAL ESTATE

9-RESIDENTIAL REAL ESTATE - PHASE II
10-EXPIRATION FINANCIAL CRISIS PROGRAM
11-PENSION CRISIS

12-CHRONIC UNEMPLOYMENT

13-GOVERNMENT BACKSTOP INSUR.
14-CORPORATE BANKRUPTCY
09-25-10
GEO-POLITICAL TENSIONS - ISRAEL / KOREA / IRAN
IRAN
ISREAL
KOREA
1- SOVEREIGN DEBT & CREDIT CRISIS
Shorting Bonds Will Be 'Trade of the Decade': Kass CNBC
The Bastard Child of The Mother of All Bubbles JimQ
So here we stand, two years after the worldwide financial system came within a few hours of imploding, and nothing has changed. Wall Street is still calling the shots. The political hacks that supposedly run this country have kneeled down before their insolvent Masters of the Universe. Bennie Bernanke has chosen to save his Wall Street masters and throw grandma under the bus. By keeping interest rates at zero, buying up trillions in toxic mortgages, and printing money as fast as his printing presses can operate, Bennie has birthed the bastard child of the mother of all bubbles. The chart below clearly shows the birth of this bastard. It is a distant cousin of the internet bubble bastard. Despite interest rates at or near all-time lows across the yield curve, money has poured into Treasury bonds. This makes no sense, as interest rates can't go much lower. A small increase in rates will produce large losses for investors at these rates.
Only a fool would buy a US Ten Year Treasury bond today yielding 2.55%. Of course, only a fool would buy a 1,300 square foot rancher in Riverside, California for $800,000 with 0% down using an Option ARM in 2005 too. But that doesn't mean there aren't millions of fools willing to do so. Each "investment" will have the same result – huge losses
4- STATE & LOCAL GOVERNMENT
5- CENTRAL & EASTERN EUROPE
Regulators seize 3 failing wholesale corporate credit unions USAT FDIC
8- COMMERCIAL REAL ESTATE
9-RESIDENTIAL REAL ESTATE - PHASE II
August New Home Sales Second Slowest on Record AP PDF
Home sales on pace to finish year as bad as 2009 AP
10- EXPIRATION FINANCIAL CRISIS PROGRAM
11- PENSION & ENTITLEMENTS CRISIS
13- GOVERNMENT BACKSTOP INSURANCE
14- CORPORATE BANKRUPTCIES

Obama asks Wen for more action on yuan Reuters



19- PUBLIC POLICY MISCUES
The Real Economic Cost of Government Is Spending – So, What Do You Want to Cut? Kasriel

Throwing away freedom for outrageous promises Hernando Today
Budget Gap Means Extending Tax Cuts a Bad Idea, Greenspan Says BL
"Interest rates are down for a number of technical reasons, which I won't get into. But, assuredly they're not going to stay here..."
---
---
OTHER TIPPING POINT CATEGORIES NOT LISTED ABOVE

19-US PUBLIC POLICY MISCUES

24-RETAIL SALES

26-GLOBAL OUTPUT GAP

31-FOOD PRICE PRESSURES
$15bn tie-up would create third largest agricultural trader
Food traders share global ambitions FT
The trio of Olam, Wilmar and Noble is challenging the leadership in agriculture of Louis Dreyfus, Illinois-based Archer Daniels Midland, New York-based Bunge and Minneapolis-based Cargill. The four, known because of their initials as the industry's "ABCD", dominate global flows of agricultural raw materials.

Olam remains associated with Kewalram Chanrai, the largest shareholder with 23 per cent, followed by management with 17 per cent. Temasek, the Singapore state investment agency, owns another 14 per cent plus convertible bonds worth a further 1.5 per cent following an equity injection last year of S$437.5m

The company remains under the leadership of the softly-spoken Mr Verghese, one of a number of prominent Indian business people in Singapore.
32-US STOCK MARKET VALUATIONS
---
---



CENTRAL BANKING MONETARY POLICIES, ACTIONS & ACTIVITIES

------------


Implications of the Financial Crisis for Economics Bernanke Speech

Bernanke defends economic models that missed crisis MW

Volcker Spares No One in Broad Critique WSJ


Former Federal Reserve Chairman Paul Volcker scrapped a prepared speech he had planned to deliver at the Federal Reserve Bank of Chicago on Thursday, and instead delivered a blistering, off-the-cuff critique leveled at nearly every corner of the financial system.

Standing at a lectern with his hands in his pockets, Volcker moved unsparingly from banks to regulators to business schools to the Fed to money-market funds during his luncheon speech.

He praised the new financial overhaul law, but said the system remained at risk because it is subject to future "judgments" of individual regulators, who he said would be relentlessly lobbied by banks and politicians to soften the rules.

"This is a plea for structural changes in markets and market regulation," he said at one point.

Here are his views on a variety of topics.

1) Macroprudential regulation — "somehow those words grate on my ears."

2) Banking — Investment banks became "trading machines instead of investment banks [leading to] encroachment on the territory of commercial banks, and commercial banks encroached on the territory of others in a way that couldn't easily be managed by the old supervisory system."

3) Financial system — "The financial system is broken. We can use that term in late 2008, and I think it's fair to still use the term unfortunately. We know that parts of it are absolutely broken, like the mortgage market which only happens to be the most important part of our capital markets [and has] become a subsidiary of the U.S. government."

4) Business schools — "We had all our best business schools in the United States pouring out financial engineers, every smart young mathematician and physicist said 'I don't want to be a civil engineer, a mechanical engineer. I'm a smart guy, I want to go to Wall Street.' And then you know all the risks were going to be sliced and diced and [people thought] the market would be resilient and not face any crises. We took care of all that stuff, and I think that was the general philosophy that markets are efficient and self correcting and we don't have to worry about them too much.

5) Central banks and the Fed — "Central banks became…maybe a little too infatuated with their own skills and authority because they found secrets to price stability…I think its fair to say there was a certain neglect of supervisory responsibilities, certainly not confined to the Federal Reserve, but including the Federal Reserve, I only say that because the Federal Reserve is the most important in my view."

6) The recession — "It's so difficult to get out of this recession because of the basic disequilibrium in the real economy."

7) Council of regulators — "Potentially cumbersome."

8) On judgment — "Let me suggest to you that relying on judgment all the time makes for a very heavy burden whether you are regulating an individual institution or whether you are regulating the whole market or whether you are deciding what might be disturbing or what might not be disturbing. It's pretty tough and it's subject to all kinds of political and institutional blockages as well."

9) On procyclicality — "It's the hardest thing as a regulator in my opinion…when things are really going well, the economy is going well, the market is not disturbed, but you see developments in an institution or in markets that is potentially destabilizing, doing something about it is extremely difficult. Because the answer of the people in the markets is, 'what are you talking about? Things are going really well. We know more about banking and finance than you do, get out of my hair, if you don't get out of my hair I'm going to write my congressman.'"

10) Risk management — "Markets that are prone to excesses in one direction or another are not simply managed under the assumption that we can assume that everybody follows a normal distribution curve. Normal distribution curves — if I would submit to you — do not exist in financial markets. Its not that they are fat tails, they don't exist. I keep hearing about fat tails, and Jesus, it's only supposed to occur every 100 years, and it appears every 10 years."

11) Derivatives — "I've heard so many stories about how important" derivatives are but "there doesn't seem to be much doubt that the creation of derivatives has far exceeded any pressing need for hedging."

12) Money market funds — "Money market funds have encroached so much on the banking market. They are nothing, in my view, but a regulatory arbitrage. The purpose that they serve in handling payments and short term paper is a commercial banking function" but they don't hold the capital or face the regulation of banks.

13) The Fed and Dodd-Frank — Volcker said it was a "miracle" that despite all the criticism aimed at the Fed the central bank "came out with enhanced regulatory authorities rather than reduced regulatory authorities."


Former Fed Chief Volcker `Not Worried' About Deflation BL


GENERAL INTEREST
PROOF! Global Governance 2025 Planned by US & EU Intelligence Agencies Document Obtained Thru FOIA Before its News
You may read this September 2010 report, courtesy of our Freedom of Information Act, at cia.gov.

Since the bulk of what this report discusses apparently has to do with international cooperation, why then, did they not choose that apparently appropriate phrase, instead of "Global Governance?"

"Global Governance" – in case you need to recheck your eyes and mind.

Here is an interesting and self-conflicted disclaimer, from its "Introduction," page 1:

The term "global governance" as used in this paper includes all the institutions, regimes, processes, partnerships, and networks that contribute to collective action and problem solving at the international level. This definition subsumes formal and informal arrangements as well as the role of nonstate actors in transnational settings. Regional cooperation may also be regarded as an element of global governance insofar as it contributes to broader efforts. Governance differs from government, which implies sovereign prerogatives and hierarchical authority. Global governance does not equate to world government, which would be virtually impossible for the foreseeable future, if ever.

Are you saying, under your breath, "'Governance differs from government…. Global governance does not equate to world government….' Who are they trying to kid?"

How can any set of people practice governance when there is no effort of government in effect? Clearly, they wish to establish dependable, and enforceable arrangements, coordinated and administered between nations, hence their admission to the word "governance," even though they create the distinction without a difference, between that word and "government."

It is a natural and logical fact that if "global governance" is coordinated effectively, it must be done through an coordinating entity of some kind. But, we must not call that body any kind of "government" — is what they are saying.

And what is any difference again between the nouns-turned-adjectives, used in these terms? How exactly does "globe" differ from "world," o United States' National Intelligence Council (NIC) and European Union's Institute for Security Studies (EUISS)? What color is the sky in your world, er, globe?

Read more From a related story...

The other thing you can count on is that the elite are steering the governments involved.

Nefarious orginizations funded by uber-elite like George Soros's Center for American Progress are working tirelessly to promote this class rule form of Social Marxism disguised as Environmental Justice or Social Justice. Soros funds his puppet projects through tools like Robert Johnson. The Center For American Progress is a far left wing Marxist architectural framework building organization designed to make democracy look like a working political philosophy.




Read in full notalemming.wordpress.cohttp://www.gordontlong.com/2010/09/23/the-new-world-order-of-global-governance-its-not-just-for-conspiracy-theorist-anymore/
A Recovery That Looks Like Recession Comstock
Simple Planet: Confronting Our Complicity Simple Planet
FLASH CRASH - HFT - DARK POOLS
MARKET WARNINGS
S&P 500 heading for best month of decade

Investors hail S&P 500's stealthly revival FT

Investors Are Deaf to the Screams of Gold, Cotton Gilbert

'Macro' Forces in Market Confound Stock Pickers WSJ

Bianco: "Stock picking is a dead art form...Macro themes dominate the market now more than ever."

MARKET & GOLD MANIPULATION

Gold's milestone: Are some losing faith in paper money? G&M


Gold May Extend Gains on Wealth Protection, Weaker Dollar, Survey Shows BL

AUDIO / VIDEO

Hunt's Deathbed Confession Reveals JFK Killers Rense

JFK ASSASSINATION: E. Howard Hunt's Confession Before Its News

QUOTE OF THE WEEK


"The great enemy of the truth," John F. Kennedy declared in a 1962 commencement address at Yale University, "is very often not the lie – deliberate, contrived and dishonest – but the myth – persistent, persuasive and unrealistic."





BUY ANY BOOK

GET 2 MONTH SUBSCRIPTION TO

MONTHLY MARKET

COMMENTARY
Gordon T Long is not a registered advisor and does not give investment advice. His comments are an expression of opinion only and should not be construed in any manner whatsoever as recommendations to buy or sell a stock, option, future, bond, commodity or any other financial instrument at any time. While he believes his statements to be true, they always depend on the reliability of his own credible sources. Of course, he recommends that you consult with a qualified investment advisor, one licensed by appropriate regulatory agencies in your legal jurisdiction, before making any investment decisions, and barring that, we encourage you confirm the facts on your own before making important investment commitments.ont>
© Copyright 2010 Gordon T Long. The information herein was obtained from sources which Mr. Long believes reliable, but he does not guarantee its accuracy. None of the information, advertisements, website links, or any opinions expressed constitutes a solicitation of the purchase or sale of any securities or commodities. Please note that Mr. Long may already have invested or may from time to time invest in securities that are recommended or otherwise covered on this website. Mr. Long does not intend to disclose the extent of any current holdings or future transactions with respect to any particular security. You should consider this possibility before investing in any security based upon statements and information contained in any report, post, comment or recommendation you receive from him.
WEEKEND
09-25-10
SEPTEMBER
READING THE RIGHT BOOKS? NO TIME?
WE HAVE IT ANALYZED & INCLUDED IN OUR LATEST RESEARCH PAPERS!
ACCEPTING PRE-ORDERS
---
TIPPING POINTS
1-SOVEREIGN DEBT & CREDIT CRISIS
2-EU BANKING CRISIS
3-BOND BUBBLE
4-STATE & LOCAL GOVERNMENT
5-CENTRAL & EASTERN EUROPE
6-BANKING CRISIS II
7-RISK REVERSAL
8-COMMERCIAL REAL ESTATE
9-RESIDENTIAL REAL ESTATE - PHASE II
10-EXPIRATION FINANCIAL CRISIS PROGRAM
11-PENSION CRISIS
12-CHRONIC UNEMPLOYMENT
13-GOVERNMENT BACKSTOP INSUR.
14-CORPORATE BANKRUPTCY
15-CREDIT CONTRACTION II
16-US FISCAL IMBALANCES
17-CHINA BUBBLE
18-INTEREST PAYMENTS
19-US PUBLIC POLICY MISCUES
20-JAPAN DEBT DEFLATION SPIRAL
21-US RESERVE CURRENCY.
22-SHRINKING REVENUE GROWTH RATE
23-FINANCE & INSURANCE WRITE-DOWNS
24-RETAIL SALES
25-US DOLLAR WEAKNESS
26-GLOBAL OUTPUT GAP
27-CONFIDENCE - SOCIAL UNREST
28-ENTITLEMENT CRISIS
29-IRAN NUCLEAR THREAT
30-OIL PRICE PRESSURES
31-FOOD PRICE PRESSURES
32-US STOCK MARKET VALUATIONS
33-PANDEMIC
34-
S$ RESERVE CURRENCY
35-TERRORIST EVENT
36-NATURAL DISASTER
---
Book Review- Five Thumbs Up for Steve Greenhut's Plunder! Mish