ANALYTICAL SERVICES
---
Fibonacci - W.D. Gann
Elliott Wave - J. M. Hurst
---

Developers of Chaos Theory
& Mandelbrot Generator
Algorithms
APPLICATION FOCUS
---
---
A MUST READ FOR ANY UNDERSTANDING
of the current
GLOBAL MACRO ECONOMIC
ENVIRONMENT
---
---
FREE INTRODUCTORY
MAILING
Current Thesis Advisory
62 pages
EXTEND & PRETEND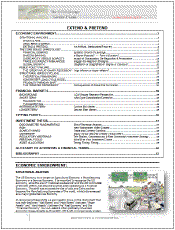 Click page to view Index
Add Promo Code: "Introduction"
in the Subject Heading
The Latest Monthly
MONTHLY MARKET COMMENTARY
12 pages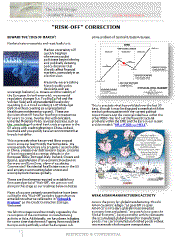 Click page for Front Page
Add Promo Code: "MMU"
in the Subject Heading
---
FREE INTRODUCTORY
ACCESS
FACEBOOK

DAILY TIPPING POINT ARTICLE POSTS
SAMPLE PAGE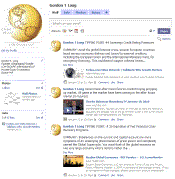 Click page to view Index
Add Promo Code: "Facebook"
in the Subject Heading
---
CUSTOMIZE YOUR RESEARCH EFFORTS
TIPPING POINT
TAG ENGINE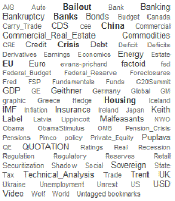 Click page to view Index
Free Access to Our Tag Engine for detailed research behind our Tipping Points.
OVER 1000 ARTICLES INDEXED
each with an
Executive Summary - Abstract
SAMPLE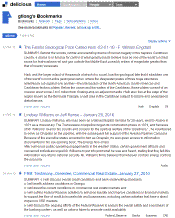 Click page to view Index
Add Promo Code: "Tag Engine"
in the Subject Heading
---
| | |
| --- | --- |
| LATEST PUBLICATIONS | RSS |
COMMENTARY for all articles by Gordon T Long
PRESERVE & PROTECT: The Jaws of Death

The United States is facing both a structural and demand problem - it is not the cyclical recessionary business cycle or the fallout of a credit supply crisis which the Washington spin would have you believe.

It is my opinion that the Washington political machine is being forced to take this position, because it simply does not know what to do about the real dilemma associated with the implications of the massive structural debt and deficits facing the US. This is a politically dangerous predicament because the reality is we are on the cusp of an imminent and significant collapse in the standard of living for most Americans.

The politicos' proven tool of stimulus spending, which has been the silver bullet solution for decades to everything that has even hinted of being a problem, is clearly no longer working. Monetary and Fiscal policy are presently no match for the collapse of the Shadow Banking System. A $2.1 Trillion YTD drop in Shadow Banking Liabilities has become an insurmountable problem for the Federal Reserve without a further and dramatic increase in Quantitative Easing. The fallout from this action will be an intractable problem which we will face for the next five to eight years, resulting in the "Jaws of Death" for the American public. READ MORE

PRESERVE & PROTECT: Mapping the Tipping Points

The economic news has turned decidedly negative globally and a sense of 'quiet before the storm' permeates the financial headlines. Arcane subjects such as a Hindenburg Omen now make mainline news. The retail investor continues to flee the equity markets and in concert with the institutional players relentlessly pile into the perceived safety of yield instruments, though they are outrageously expensive by any proven measure. Like trying to buy a pump during a storm flood, people are apparently willing to pay any price. As a sailor it feels like the ominous period where the crew is fastening down the hatches and preparing for the squall that is clearly on the horizon. Few crew mates are talking as everyone is checking preparations for any eventuality. Are you prepared?

What if this is not a squall but a tropical storm, or even a hurricane? Unlike sailors the financial markets do not have the forecasting technology to protect it from such a possibility. Good sailors before today's technology advancements avoided this possibility through the use of almanacs, shrewd observation of the climate and common sense. It appears to this old salt that all three are missing in today's financial community.

Looking through the misty haze though, I can see the following clearly looming on the horizon.

Since President Nixon took the US off the Gold standard in 1971 the increase in global fiat currency has been nothing short of breath taking. It has grown unchecked and inevitably became unhinged from world industrial production and the historical creators of real tangible wealth. READ MORE
---
READER ROADMAP - 2010 TIPPING POINTS aid to positioning COMMENTARY
Last Update: 09/19/2010 04:56 PM
SCHEDULE: 1st Pass: 5:30AM EST, 2nd Pass: 8:00 AM, 3rd Pass 10:30 AM. Last Pass 5:30 PM


Complete Legend to the Right, Top Items below.
Articles with highlights, graphics and any pertinent analysis found below.

1-SOVEREIGN DEBT

2-EU BANKING CRISIS
3-BOND BUBBLE

4-STATE & LOCAL GOVERNMENT

5-CENTRAL & EASTERN EUROPE
6-BANKING CRISIS II
7-RISK REVERSAL

8-COMMERCIAL REAL ESTATE

9-RESIDENTIAL REAL ESTATE - PHASE II
10-EXPIRATION FINANCIAL CRISIS PROGRAM
11-PENSION CRISIS

12-CHRONIC UNEMPLOYMENT

13-GOVERNMENT BACKSTOP INSUR.
14-CORPORATE BANKRUPTCY
09-18-10
GEO-POLITICAL TENSIONS - ISRAEL / KOREA / IRAN
IRAN
ISREAL
KOREA
1- SOVEREIGN DEBT & CREDIT CRISIS
More On The ECRI Leading Indicator
Comstock
Consumer Sentiment at Weakest Point Since August 2009
Reuters
Consumer Sentiment declines in September, lowest level in a year
Calculated Risk
This was a big story in July when consumer sentiment collapsed to the lowest level since late 2009. Now it is even lower ...
U.S. Consumer Prices Rose 0.3% in August, Core Rate Unchanged
BL
BLS
Inflation- Core CPI, Median CPI, 16% trimmed-mean CPI
Calculated Risk
The Cleveland Fed has released the median CPI:
According to the Federal Reserve Bank of Cleveland, the median Consumer Price Index rose 0.1% (0.6% annualized rate) in August. The 16% trimmed-mean Consumer Price Index increased 0.1% (1.2% annualized rate) during the month.
...
Over the last 12 months, the median CPI rose 0.5%, the trimmed-mean CPI rose 0.9%, the CPI rose 1.1%, and the CPI less food and energy rose 0.9%.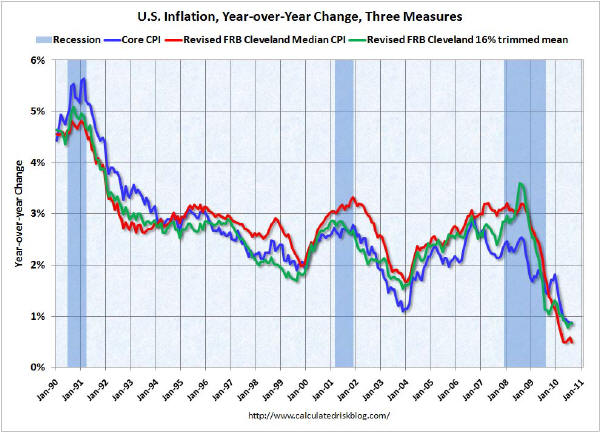 Click on graph for larger image in new window.

This graph shows three measure of inflation, Core CPI, Median CPI (from the Cleveland Fed), and 16% trimmed CPI (also from Cleveland Fed).

They all show that inflation has been falling, and that measured inflation is up less than 1% year-over-year. Core CPI was flat, and median CPI and the 16% trimmed mean CPI were up 0.1% in August.

Note: The Cleveland Fed has a discussion of a number of measures of inflation: Measuring Inflation
U.S. economy "gradually deteriorating": Levy
TTicker


A Telltale Recession Indicator Was Buried Inside Yesterday's Philly Fed Survey
BI
The percentage of companies reporting seeing a decrease in sales broke over 30%, and historically everytime that's happened, a new recession has followed closely thereafter (there is one exception, when the tech bubble saved everything -- bubbles can do that).
The chart is a bit hard to read, but the blue line represents companies reporting decreasing orders, and the orange line in the middle is 30, which you can see the blue line just broke above.
In the past, this has always come just before the shaded areas (recessions).
The green line is the ISM -- there's a good chance we'lls ee more of that.
Click here for more details from the ugly Philly Fed report >
American Households Just Slashed Their Debt At A Record Pace
BI
We all know the American government is spending more and consumers are spending less, but the level of deleveraging in the household sector has picked up pace significantly, according to the Federal Reserve's flow of funds report (via Zero Hedge).

Approximately $300 billion in household debt was paid down in Q2 2010, according to the report. This is the 9th quarterly decline in a row in household debt, and was at an annual rate of 2.25%. The severity of the debt-slashing hit a new record.Household wealth fell by $1.5 trillion overall in Q2. That's government borrowing in purple, and negative household borrowing in blue.
Zero percent for your money! MW

Nearly one in four taxable money funds has a current yield of 0.00%.
4- STATE & LOCAL GOVERNMENT
5- CENTRAL & EASTERN EUROPE
SEC Eyes New Rules on Banks' Debt-Level Disclosure AP
Raising the curtain on the private nature of derivatives FT
Many derivatives contracts are rarely, if ever, traded
Shadow Bank Liabilities Plunge By $700 Billion In Q2, $2.1 Trillion Year To Date ZH
Continuing the analysis of today's Z.1 report, we next focus on recent developments in the shadow banking system. And it's a bloodbath: total shadow bank liabilities dropped by $680 billion in Q2, and a massive $2.1 trillion YTD. If one wonders why Ben Bernanke (yes, it's technically TurboTim) continues to print trillions and trillions of debt, and it is still doing nothing (yet) to stimulate the system, here is your answer.
As credit will only exist if i) it is needed and ii) there are cash paying assets (or at least the myth thereof) to support its existence, the latest plunge in the shadow banking system is merely the most recent confirmation that the deleveraging in America is only just beginning. In fact, from the peak of the credit bubble in Q2 2008, through Q2, total bank liabilities (shadow and traditional) have plunged by $2.6 trillion, from $32.1 trillion to $29.5 trillion. Yet it is the collapse in shadow banking that was responsible, with shadow liabilities falling by a stunning 20% from $21 trillion to $17 trillion in just over two years even as banks have benefitted from the transfer of cheap government cheap on their traditional lending books (think Fed intervention and QE, leading to record low interest rates).
What this means is very clear: the shadow banking system is collapsing, period. Yes, the rate of collapse is slower than in Q1, but the total plunge was still a whopping $4.2 trillion annualized for 2010. And the delta between Shadow Banking and Traditional liabilities has collapsed from $10.7 trillion at the peak in March 2008, down to under $4 trillion. This is a record amount of "money" being removed from the system, and explains why, for now at least, the velocity of money is nothing faster than a crawl.
That said, if and when this indicator plateaus and recommences climbing, will be a very "sensitive" moment for all deflationists and inflationists as it will mark the inflection point from credit contraction to renewed credit creation. Alternatively, the Fed can merely force credit into traditional bank liabilities, which banks can then proceed to use and purchase stocks and commodities, at a zero cost of debt. What that will do to select asset prices, we leave to our readers' imagination.
Chart 1: Total sub-components of the shadow banking system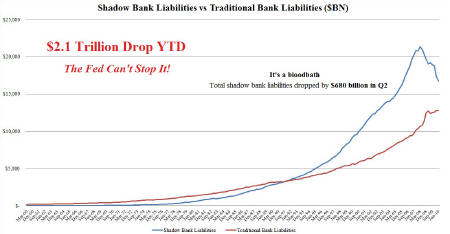 8- COMMERCIAL REAL ESTATE
9-RESIDENTIAL REAL ESTATE - PHASE II

10- EXPIRATION FINANCIAL CRISIS PROGRAM

11- PENSION & ENTITLEMENTS CRISIS


Pension Funds Gap Looms Larger WSJ


Many of America's largest pension funds are sticking to expectations of fat returns on their investments even after a decade of paltry gains, which could leave the U.S. with an even larger pensions shortfall than expected.

Many of America's largest pension funds are sticking to expectations of fat returns on their investments even after a decade of paltry gains, which could leave U.S. retirement plans facing an even deeper funding hole and taxpayers on the hook for huge additional contributions.

The median expected investment return for more than 100 U.S. public pension plans surveyed by the National Association of State Retirement Administrators remains 8%, the same level as in 2001, the association says.

The country's 15 biggest public pension systems have an average expected return of 7.8%, and only a handful recently have changed or are reconsidering those return assumptions, according to a survey of those funds by The Wall Street Journal.

Corporate pension plans in many cases have been cutting expectations more quickly than public plans, but often they were starting from more-optimistic assumptions. Pension plans at companies in the Standard & Poor's 500 stock index have trimmed expected returns by one-half of a percentage point over the past five years, but their average return assumption is also 8%, according to the Analyst's Accounting Observer, a research firm.

Pension funds at companies in the S&P 500 faced a $260 billion shortfall at the end of 2009, according to Standard & Poor's.

Estimates of the fund deficits faced by state and local governments range from $500 billion to $1 trillion.





No increase to Social Security Benefits for 2011 (unofficial) Calculated Risk





America isn't working and the rest of the world should be alarmed Independent

California Employment Hooks Downward Once Again BI


13- GOVERNMENT BACKSTOP INSURANCE
14- CORPORATE BANKRUPTCIES

US-China clash over yuan escalates, risking superpower stand-off Tele

China Now Runs the World, Soros Says TheStreet


There's really nothing the U.S. can do to accelerate the liberalization of China's currency policy, Soros said...
China's Get-Out-Of-Jail Card Vexes Geithner Pesek


Such beggar-thy-neighbor policies will only get Asia so far. Everyone simultaneously wants to export their way out of trouble and can't...


Geithner vows to take China currency dispute to G20 Reuters

Yuan hits record high Xinhua

China's yuan on long gaining streak People's Daily

China to Expand Cross-Border Yuan Settlement Regions BW



19- PUBLIC POLICY MISCUES
---
---
OTHER TIPPING POINT CATEGORIES NOT LISTED ABOVE
19-US PUBLIC POLICY MISCUES
24-RETAIL SALES
26-GLOBAL OUTPUT GAP
31-FOOD PRICE PRESSURES
32-US STOCK MARKET VALUATIONS
---
---
GENERAL INTEREST
Our Best Minds Are Failing Us Hirsh
With America in deep trouble, our economists are AWOL, and our scientists are still off 'financial engineering.'
Fiscal policy and global imbalances VOX
Why there's such a dividend deluge Jubak
FLASH CRASH - HFT - DARK POOLS
MARKET WARNINGS
Biggest Monthly Bearish-To-Bullish Swing In 6 Years Zero Hedge
Robert Prechter- We're On The Verge Of The Biggest Bear Market In 300 Years BI
MARKET & GOLD MANIPULATION

The Golden Ratio Price


The Fed's gold problem La Monica

Greenspan's Warning on Gold NY Sun




"Fiat money has no place to go but gold"

AUDIO / VIDEO

Llink to Pento post-mortem on King World News

Zero Hedge Commentary on CNBC Interview: For some, this week's incident on CNBC where Michael Pento was kicked off CNBC for daring to question the basic assumption that his host Erin Burnett presented as fact, was perplexing (to others, who are well aware of the modus operandi of the TV station is, not so much). In a follow up interview that was uninterrupted by commercial breaks and octoboxes, with King World News, Michael Pento gives a post-mortem of just what transpired: "I looked at it 4 times and I don't when I went off the rails, I thought it was a bit unwarranted. All I was doing was being very passionate about an issue I feel very strongly about." The core of the disagreement of course, is the underlying assumption which CNBC takes as gospel, which is that no matter what, interest rates will not, are not allowed to rise (which together with a failed treasury auction, will be the key indicators of the "beginning of the end"). And Pento is completely right to question this as the underlying "factual basis" of any rhetorical question: "We as Americans have no right to believe that interest rates on the 10 year, which are far below their historic 49 year average, 7.31%, are now on 2.7%, so the onus is not on me that interest rates will rise. The onus is on other people to convince me and the investing public that the US bond market will always be in a perpetual bubble that will never burst. And if you look at the data, it shows that this can not be a sustainable situation." Pento then goes on to highlight all the facts that certainly make his case, but that ultimately all collapse into one thing: that the Fed will be able to continue to control, and frankly, manipulate the rate market for perpetuity. This is a flawed assumption and sooner or later Ben Bernanke will lose control as with every system which is in disequilibrium, the snapback to a sustainable balance will occur, and the longer it is kept away from its natural state, the more violent the snapback will be.

One point that Pento discusses that bears further attention, is his argument that governmental investment in the economy should decline and the private sector should be encouraged to pick up the slack. Of course, with the Balance of Payments equation which is now on the forefront of public attention, this means that unless the Current Account goes positive, the private sector is unlikely to be able to pick up the slack from a collapse in endless governmental stimulus (and thus constant debt creation). Which goes to the crux of the Keynesian-Austrian debate. Many would say here that instead of having funded the government apparatus, which as even Mort Zuckerman points out is beyond unwieldy and has grown excessively, the government should have instead have focused on making the US competitive from an international trade standpoint, a topic even Warren Buffett lamented in his non-corrupt days, when he was actually a voice of reason, and not just unbridled, government captured greed. Alas, that would mean a total break from the current Chinese trade surplus hegemony and realigning the US economy in a way that would result in a dramatic shock to millions of people who realize they are simply uncompetitive in the global picture (and thus redundant in the job market) but which would serve as another much needed reset to get America off on a way to long-lost prosperity with an attempt to reincarnate the American manufacturing sector while gradually phasing out the service sector (and especially its "financial innovation" component) . Yet as Gorgon T. Long also pointed out a few days ago, America is now dead set on repeating the destructive Keynesian mistakes of the past, and will continue to fund a broken model until one day, as Michael Pento all too correctly points out, it all snaps, and the "shocking" death of Keynesianism, as described a month ago by Eric Sprott, catches all so many completely unaware.

Of course to explain all this to Erin Burnett, who still believes that the government has done a great job with the "fastest" recovery in the past 20 years, which would be correct if one could eliminate those little pesky things known as "facts", is beyond folly. All those who are invited to CNBC, and dare to explain the truth: you have been warned.

QUOTE OF THE WEEK


"The great enemy of the truth," John F. Kennedy declared in a 1962 commencement address at Yale University, "is very often not the lie – deliberate, contrived and dishonest – but the myth – persistent, persuasive and unrealistic."




BUY ANY BOOK

GET 2 MONTH SUBSCRIPTION TO

MONTHLY MARKET COMMENTARY
Gordon T Long is not a registered advisor and does not give investment advice. His comments are an expression of opinion only and should not be construed in any manner whatsoever as recommendations to buy or sell a stock, option, future, bond, commodity or any other financial instrument at any time. While he believes his statements to be true, they always depend on the reliability of his own credible sources. Of course, he recommends that you consult with a qualified investment advisor, one licensed by appropriate regulatory agencies in your legal jurisdiction, before making any investment decisions, and barring that, we encourage you confirm the facts on your own before making important investment commitments.ont>
© Copyright 2010 Gordon T Long. The information herein was obtained from sources which Mr. Long believes reliable, but he does not guarantee its accuracy. None of the information, advertisements, website links, or any opinions expressed constitutes a solicitation of the purchase or sale of any securities or commodities. Please note that Mr. Long may already have invested or may from time to time invest in securities that are recommended or otherwise covered on this website. Mr. Long does not intend to disclose the extent of any current holdings or future transactions with respect to any particular security. You should consider this possibility before investing in any security based upon statements and information contained in any report, post, comment or recommendation you receive from him.
WEEKEND
09-18-10
SEPTEMBER
READING THE RIGHT BOOKS? NO TIME?
WE HAVE IT ANALYZED & INCLUDED IN OUR LATEST RESEARCH PAPERS!
ACCEPTING PRE-ORDERS
---
TIPPING POINTS
1-SOVEREIGN DEBT & CREDIT CRISIS
2-EU BANKING CRISIS
3-BOND BUBBLE
4-STATE & LOCAL GOVERNMENT
5-CENTRAL & EASTERN EUROPE
6-BANKING CRISIS II
7-RISK REVERSAL
8-COMMERCIAL REAL ESTATE
9-RESIDENTIAL REAL ESTATE - PHASE II
10-EXPIRATION FINANCIAL CRISIS PROGRAM
11-PENSION CRISIS
12-CHRONIC UNEMPLOYMENT
13-GOVERNMENT BACKSTOP INSUR.
14-CORPORATE BANKRUPTCY
15-CREDIT CONTRACTION II
16-US FISCAL IMBALANCES
17-CHINA BUBBLE
18-INTEREST PAYMENTS
19-US PUBLIC POLICY MISCUES
20-JAPAN DEBT DEFLATION SPIRAL
21-US RESERVE CURRENCY.
22-SHRINKING REVENUE GROWTH RATE
23-FINANCE & INSURANCE WRITE-DOWNS
24-RETAIL SALES
25-US DOLLAR WEAKNESS
26-GLOBAL OUTPUT GAP
27-CONFIDENCE - SOCIAL UNREST
28-ENTITLEMENT CRISIS
29-IRAN NUCLEAR THREAT
30-OIL PRICE PRESSURES
31-FOOD PRICE PRESSURES
32-US STOCK MARKET VALUATIONS
33-PANDEMIC
34-
S$ RESERVE CURRENCY
35-TERRORIST EVENT
36-NATURAL DISASTER
---
Book Review- Five Thumbs Up for Steve Greenhut's Plunder! Mish